WE PROVIDE BEST MARKETING SERVICES in Sharjah UAE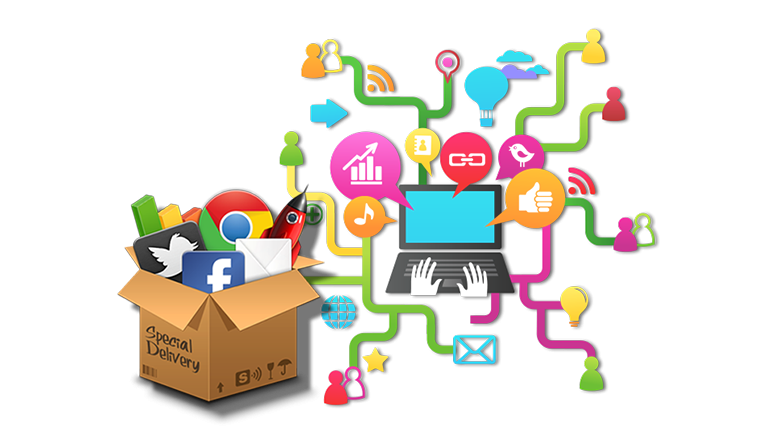 SOCIAL MEDIA MARKETING (SMM)
With Social Media Marketing (SMM), companies are able to take advantage of integral social media platforms to strategize, launch, and evaluate their marketing campaign's effectiveness. SMM also encourages you to use its marketing platforms to promote your product and services. Our marketing service team in Sharjah UAE can take care of all your social media platforms and generate health leads for you.
SEARCH ENGINE OPTIMIZATION (SEO)
Search Engine Optimization (SEO) is an essential component of digital marketing services. Our professional SEO marketing services team in Sharjah UAE use of various tactics, tools, and strategies to increase a website's visibility in organic search results. Search Engine Optimization (SEO) helps to increase traffic to your websites and it converts to business leads.
SEARCH ENGINE ADVERTISING
Search engine advertising, commonly known as "paid search," involves strategically placing ads on search engine result pages (SERPs) to maximize visibility. These ads can be found at the top or bottom of the SERP, alongside organic search results, allowing businesses to reach a wider audience. Our marketing service team in Sharjah, UAE, provides top-notch keywords to help you get your website to the top of the search engine results page (SERP).
GOOGLE ANALYTICS
Google Analytics is a powerful data analysis tool used to track visitors and engagement to a website. Google Analytics allows website owners to measure, analyze and report website traffic. This information can help website owners make informed decisions about how to improve their digital presence. Our marketing service team in Sharjah, UAE, provides monthly analytics reports that identify what changes need to be made to the website to maximize website performance.
EMAIL & SMS MARKETING SERVICES
Effective marketing campaigns can be crafted through the utilization of email and SMS marketing techniques. By utilizing email and text message blasts, companies can reach more potential customers in a cost-effective and efficient manner. You can receive expert advice from our Digital marketing service team in UAE to effectively implement marketing techniques.
E-COMMERCE MARKETING SERVICES
One of the key benefits of e-commerce marketing services is their ability to reach a global audience. Our marketing services team in Sharjah UAE offers consultation services to emerging e-commerce vendors, ensuring that their search engine optimization (SEO), email marketing, and social media marketing efforts are successful.
LEAD GENERATION FOR BUSINESS
Effective lead-generation strategies help businesses connect with their target market, identify potential customers, and build lasting relationships with them. Generating leads is a systematic process that requires a comprehensive understanding of the target market, the use of marketing automation tools, alignment of sales and marketing teams, a user-friendly website, and the use of social media platforms. The esteemed marketing service team at Zropixel in Sharjah UAE has recently equipped our clients with cutting-edge lead-generation strategies.
INFLUENCER MARKETING SERVICES
The key to generating sales is effective communication. Influencer marketing has emerged as a powerful tool for businesses to reach their target audience and increase their following. Our marketing service team in Sharjah UAE has established relationships with top-tier social influencers who can help elevate your brand to new heights. Zro Pixel facilitates connecting with appropriate social influencers to give your brand the required surge.
MOBILE APP MARKETING AND ADVERTISING SERVICES
With the influx of smartphone users, mobile app marketing and advertising have become essential for businesses to establish visibility, attract potential customers, and compete in the market. Creating a visually appealing app icon, optimizing the app store description, leveraging social media platforms to enhance mobile app downloads and reviews, and investing in paid advertising campaigns are some of the ways you can reach your target audience. By deploying these tactics, our marketing service team in Sharjah UAE is working to support you.
BRANDING
To provide optimal branding services, it is essential to utilize a comprehensive array of marketing and advertising tools while establishing a solid brand history and foundation. Our marketing service team creates a detailed plan of action to ensure your brand is effectively represented. Our marketing service team in Sharjah UAE is involved in all stages of branding, including logo design, building brand loyalty, increasing brand awareness, establishing brand identity, and positioning the brand in the market.
BILLBOARD MARKETING SERVICES
Billboard marketing generates high exposure rates that help drive traffic toward businesses resulting in significant returns on investment (ROI). Outdoor advertising offers exposure to over 400,000 individuals on a daily basis. Our marketing service team in UAE conducts thorough research, analysis, and planning to determine the optimal time, location, and duration for your advertisement to achieve maximum exposure. With our marketing expertise, your brand can reach a vast audience and make a lasting impression.
MARKET RESEARCH & SURVEY SERVICES
Market research is a crucial component of any successful marketing strategy in the UAE. Proper market research enables a brand to understand its potential customer's needs, preferences, and behaviors more deeply. By combining both primary and secondary market research, our marketing service team in Sharjah UAE can develop a comprehensive understanding of the target audience. After that our marketing service team starts branding your products to reach the right audience.
CONTENT MARKETING SERVICES
Content marketing is a technique of creating and sharing valuable content to attract and retain customers. It can take various forms such as blog posts, videos, infographics, or podcasts to name a few. The ultimate goal of content marketing in the UAE  is to establish trust with the audience by addressing their needs and problems. Our marketing service team in Sharjah UAE conducts a survey and grabs all content and markets it the proper way.
PRODUCT MARKETING SERVICES
Product marketing techniques are essential for any business that wants to succeed in a crowded market. The ultimate goal is to make your product stand out from the competition and appeal to potential customers. One of the most effective ways of doing this is by showcasing unique features that differentiate your product from others in its category. Our marketing team in Sharjah UAE provides affiliate marketing and video marketing for better results.
PROMOTIONAL MARKETING SERVICES
Promotional marketing includes a wide range of techniques such as advertising campaigns, coupons, contests, sweepstakes, trade shows, and sponsorships. These methods allow businesses to engage their customers directly and create excitement around their products or services. Our marketing services team in Sharjah, UAE, specializes in developing effective strategies for promoting your products or services to potential customers.
COMMERCIAL BROADCAST ADVERTISING
As a marketing agency, we understand the importance of reaching your target audience through various channels. One of the most effective ways to do this is by sponsoring a show or integrating your brand into a popular series. By doing so, you can increase brand awareness and reach a wider audience. We have the expertise and experience to help you identify the right show or series that aligns with your brand values and target audience.